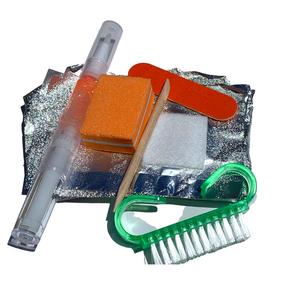 This at home removal kit is perfect for removing your press ons, acrylic, or gel nails.
This product includes: 
10 Foil Wraps
Nail File
Buffer
Cuticle Pusher
Nail Brush
Cuticle Oil Pen.
How To Remove Nail Product:
1. With the coarse side of nail file, gently remove shine from nail product
2. Saturate foil pad with polish remover.
3. Place pad directly on nail bed. Press down to ensure pad covers entire nail. Tightly wrap foil around finger and fold the top underneath. Leave on nail about 15-20 minutes.
4. Pull foil off finger and remove any stubborn residue with a cuticle pusher.
5. Use brush to clean nails with soap and water.
6. Apply cuticle oil.