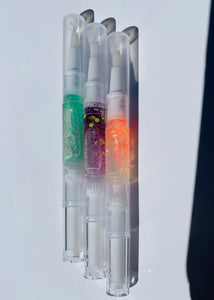 Our "Cutie Oil" contains:
Camellia Oil
Lavender Oil
Vitamin E
Castor Oil
Vitamin E can prevent yellow nail syndrome, which causes peeling, cracked, and yellowing nails. Vitamin E oil's moisturizing benefits may also support nail health by preventing cracked cuticles and dry skin around the nail bed.
Lavender oil helps to strengthen the nails and cuticles and keeps them both moisturized. It is deeply hydrating and soothing, which makes it an excellent choice for dry, ragged or inflamed cuticles
Camellia oil softens dry or brittle nails and rough cuticles. It also helps alleviate discomfort from dry skin and keeps nails nourished, smooth and shiny. 
Castor oil helps in strengthening nails and makes them flexible.  You will see your nails turning shinier and softer.