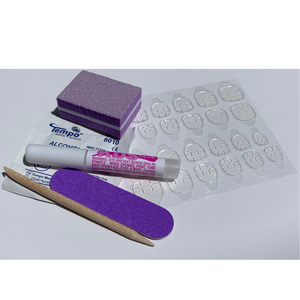 This kit includes: 

Wooden Cuticle Pusher
Sticky Tab
Glue
Mini Buffer
Mini Nail File
Alchohol Pads
How do you apply press ons?
1.File natural nails with nail file so they are even.
2.Push cuticles back with wooden cuticle pusher.
3.Buff natural nail with mini buffer.
4.Wipe debris and oil with alcohol pad.
5.Use glue/sticky tabs to adhere press on nails to natural nails.
**You can also refer to the video tutorials in the Shapes and Sizing Guide.